Managing and tracking your assets couldn't be easier with
x
-Track
Asset Management software, crucial to preserving your capital.
Cross-Check Systems proudly presents x-Track , an innovative asset tracking management software.
Seamlessly integrates cutting-edge automation and intelligent notifications.
x-Track empowers businesses to achieve unprecedented efficiency, accuracy, and operational excellence.
Elevate your asset tracking game with x-Track and experience the future of streamlined dispatch and proactive notifications.
Scalability:
Whether you're a small business or an enterprise-level corporation, x-Stock is built to grow with you. Its modular design and customisable features adapt to your evolving inventory needs.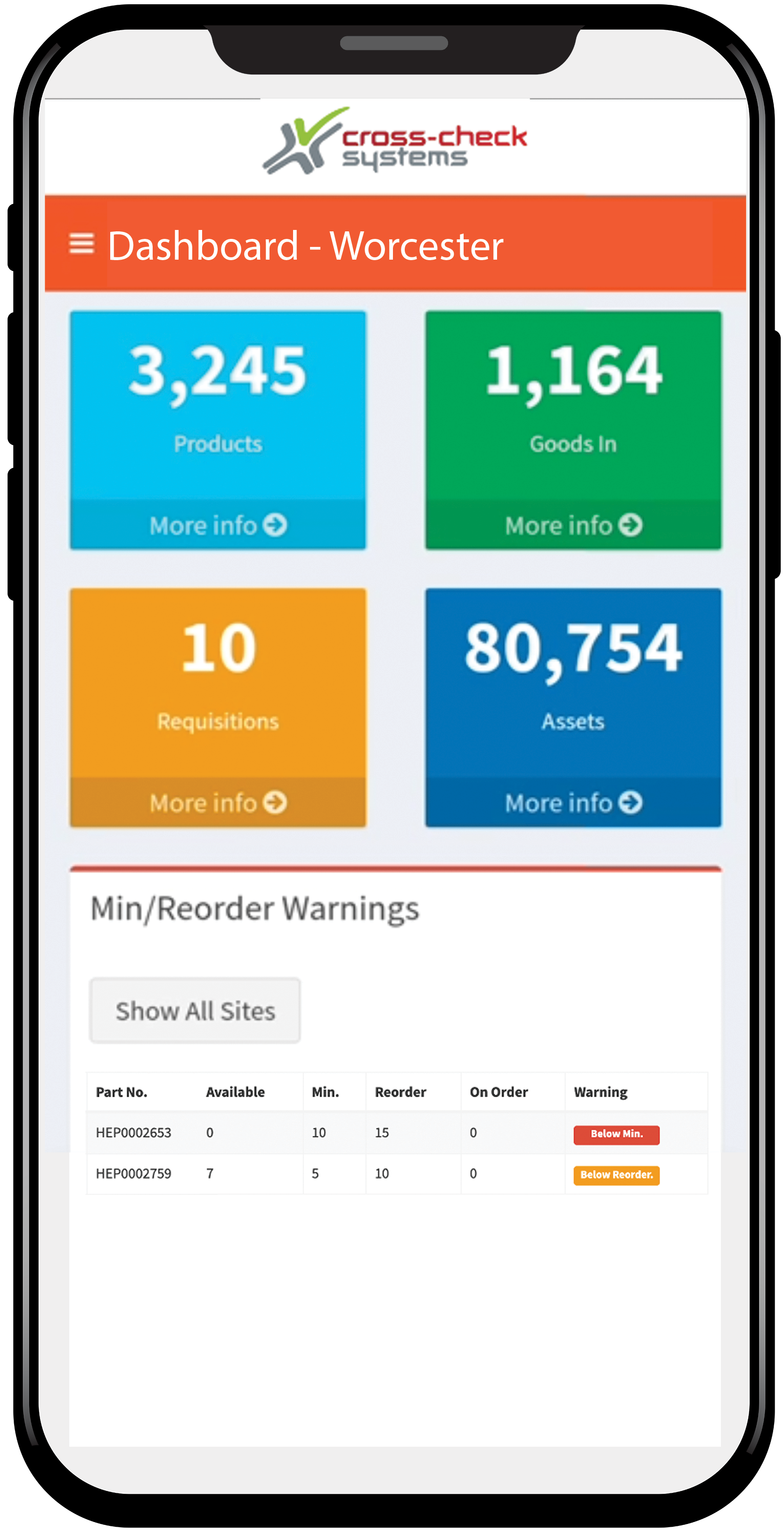 Real-Time Tracking:
x-Track provides real-time visibility of your assets, giving you instant insights into value, locations, and movement. No more manual counts or guesswork – make informed decisions backed by accurate data.
Centralised Management:
Seamlessly manage multiple sites and locations from a single, intuitive dashboard. Effortlessly allocate, transfer, or even right-off assets across your entire business, ensuring optimum utilisation of resources.
To prevent errors, streamline your workflow by seamlessly importing purchase orders (POs) from your ERP system into x-Track. This ensures the accuracy of your asset values.
You can also create and send POs directly through x-Track to your suppliers. Input the cost price and synchronise this information with your ERP system for precise asset valuation upon delivery.
Generate assets by affixing distinctive asset tags to individual items.
Produce asset ID barcodes directly through x-Track and affix them to each item, followed by recording essential information in the database, including serial numbers, manufacturer details, model specifications, and cost data.
Congratulations, your newest company asset is now officially created!
Effortlessly relocate and allocate assets among departments or individuals.
x-Track additionally keeps a comprehensive record of all asset movements, presenting them in a visual 'timeline.'
x-Track can monitor every element, even assets nested within others (parent/child/grandchild), and enables the storage of asset images for convenient identification.
x-Track provides a facility to create parts lists (BOM's) for frequently used kits which ultimately become your assets. Users can request an asset such as a new PC and x -Track generates the component list to create the asset then checks stock availability to ensure there is sufficient stock.
x-Track allows users to create a Bill of Material that lists each product and the quantities required to create a complete kit.
For example, building a server which may comprise of a chassis, mother board plus multiple memory and video cards. x -Track allows the user to build and assign asset tags to each component (child ID) and store against a main asset tag (parent ID).
stores the server under the parent ID but allows users to interrogate and display details of the child ID/components.
x-Track comes with numerous reports which allow users to view, track & trace assets.
Additional reports such as Transaction, movement and the all import asset valuation reports all come as standard.
Custom reports can also be developed to meet exacting requirements of your organisation.
All reports can be viewed, printed or downloaded in Excel and CSV formats.
Your company's assets are so important to your bottom line, and equally to the efficient running of your company. So it's only natural you want to know where they are and their value. With a bespoke asset management solution from Cross-Check, track, manage and monitor all your assets from your desk, wherever they are in the world!
Working closely with many small, medium and large businesses over the years, we've recognised the same key areas for where lack of asset management could be holding a business's growth back.
Some important questions to consider:
No formal asset register?

Guessing the value of your company's total assets?

No accountability for the company's assets?

Lost or misplaced assets?

No control of "spend" on assets?

Asset depreciation and right-off?

Can you identify areas of significant loss?
Do any of these sound familiar?
What can
x

-Track

do for you?
Our asset management software linked with Cross-Check's x-Stock inventory management system helps you track, manage and monitor both your stock and your assets from the moment they enter your company through to the moment they land at your customer's door.
x

-Track

: A tailored system
Finding an asset management system that suits your needs can be a minefield. Frequently choosing an 'off the shelf solution' can result in your having to fit your process flow around the system which can cost your business valuable time and resources.
Here at Cross-Check Systems, we mould our solutions to your processes. Therefore, when working with us we take the time to understand how you do things and tailor the system to you.
You can choose how you host x-Track. Most of our customers prefer that we host it on our dedicated cloud based servers but if you prefer, you can host it locally on your server. The entire system is scalable so it can grow with you or, if you are going through a consolidation period, re-configure to suit.
When your assets are on the move, they can easily get lost. Solve this with x-Track, Cross-Check's bespoke asset tracking software, tailored to suit your company.
With x-Track, you'll be able to identify any missing assets, produce a printed report and charge the relevant customer for the loss. If the asset is returned later on, you'll be able to credit the customer accordingly.
Whether computers, power tools, pallets or more, ensure your assets are where they need to be at any given time.
By simply adding a barcode or RFID tag (dependent on system requirements) to assets such as computers, power tools, pallets or roll cages, you can check if your asset has been returned or track them to a specific location.
We develop our core product into an affordable asset management solution configured exactly as you wish and designed around your process.
What kind of asset tracking is available?
Pallet/Roll Cage Tracking
With our x-Track Pallet Asset Tracking System, you'll have real-time visibility of your pallets through RFID technology.
Avoid damaged or lost pallets by embedding each with an RFID tag. Returned pallets can be inspected and the relevant customer charged if damage is discovered.
Paperwork is significantly reduced because all collected information is written on the RFID tag and stored on the management software.
Power tools are desirable objects and are frequently lost or stolen. You might be concerned whether equipment will be returned damaged, or even at all?
Tracking your power tools with x-Track Asset Tracking Software makes your workforce accountable for their loan equipment and can be a great way to ensure they are returned in good condition & in a timely manner.
Placing a unique barcode, 2D code or an RFID asset tag on your equipment is easy, and you can even mix technologies. A quick scan will inform you of the equipment's type, kit components, who it was issued to, the period of time the loan is valid for, and more. Your asset tracking management software will record exactly where the item is, giving you peace of mind.
Computer, Laptop & Tablet Tracking
Not all of your company's assets are stock related. Keeping your IT equipment running is paramount to keeping your business on the move.
Using direct part marking and 2D codes, you can record information such as laptop number, basic software information, and where the assets are allocated.
Having over 16 years of experience working with a range of mobile computer and barcode readers, we can take the guess work out of selecting your hardware. This ensures we can offer you the best hardware to suit your budget and needs.
When choosing x-Track as your asset management system, you want the best for your business and we want you to maximise the potential of this end-to-end inventory management system. We work closely with our clients from system set-up through to training your key personnel.
Our support doesn't stop once your system is up and running. With our Pin- Point Software Support, you will have total peace of mind, in fact, we can tailor the support contract to suit your needs. For more information on what our Pin- Point support covers, visit our software support page here.
In the mean time, if you want to discuss how x-Track can help in your business or to book a FREE Demo, contact us on sales@cross-check.co.uk or call us on 01386 210 180